On October 12th, 2013, in the soaring and light-filled atrium of San Diego's Art & Space Museum in Balboa Park, the Art of Science Learning launched its first Incubator for Innovation.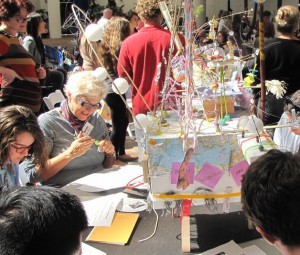 With icons of 20th Century aerospace innovation floating overhead, more than 100 Innovation Fellows collaborated on the creation of a dozen unique symbolic models of innovation. For an intense three hours, they brainstormed and conversed; built lofty but concrete 3D representations of their visions and values; and then unpacked the models to share key findings. This process, called Metaphorming, was developed by Todd Siler, Art of Science Learning's ArtScientist in Residence.
The day-long workshop was opened by AoSL founder/director Harvey Seifter, who gave an overview of research findings and key project elements, which include the introduction and national implementation of the world's first comprehensive arts-based STEM innovation curriculum. A presentation by John Reaves, AoSL curriculum designer, then began the incubator's year-long exploration of the innovation process.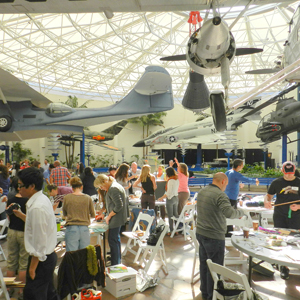 Nan Renner, director of the San Diego Incubator for Innovation, welcomed the Innovation Fellows, who come from remarkably diverse backgrounds and from all over the region, including Mexico.  Among the Fellows are students and scientists, teachers and artists, entrepreneurs, researchers and policy makers involved with San Diego's civic challenge – aligning water supply and demand.
This diversity resulted in a rich and energetic Metaphorming session, a wonderful beginning to a full year of learning and innovation.