A world-class city on the shores of Lake Michigan, Chicago is a vibrant community filled with the spirit of creative innovators who continue to change the world.  This spirit fills the Chicago Incubator for Innovation at the Museum of Science and Industry, Chicago (MSI).  The Chicago Incubator will build a community from the arts, sciences, business, and education institutions that make Chicago a special place.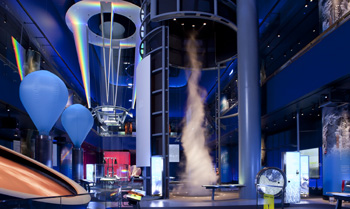 MSI supported The Art of Science Learning Phase 1 at a conference at Illinois Institute of Technology that drew attendees from across Chicagoland with diverse backgrounds and interests.  Housing an Incubator for Innovation in Chicago was a natural choice, as was involving MSI as a host institution.
The Art of Science Learning and MSI share a goal of supporting methods of science learning that are very naturally connected to the artistic process. MSI is a leader in implementing such methods in its exhibitions and programming initiatives, such as inquiry-based science, hands-on instruction, interactive learning, and digital engagement.  Through the Chicago Incubator for Innovation we can extend our work to bring art and science together, develop innovative practices in science education, and drive innovation.
For more information about the Chicago Incubator for Innovation, or  to apply to be an Innovation Fellow please visit: http://www.msichicago.org/education/educator-resources/the-art-of-science-learning
---
News
Growing Innovations Goes to Market: http://www.artofsciencelearning.org/growing-innovations/
View the MSI's Artists in Residence Hannah Gamble and Nick Goettling's documentary comic book about The Art of Science Learning and Chicago's Urban Nutrition challenge 
here (.pdf 10mb)
.
---