Arts-Based Learning Leads to Improvements in Creative Thinking Skills, Collaborative Behaviors and Innovation Outcomes
For thousands of years, the arts have played a central role in human learning. In recent decades, the central role of creativity, collaboration, communication and empathy in STEM innovation and workforce development has become widely recognized and accepted.  But research into the impact of arts-based learning on STEM innovation has been very limited.
In 2012, with the support of the National Science Foundation, we set out to connect the dots by testing the hypothesis that integrating the arts into STEM-related innovation training results in enhanced creative thinking skills, more robust collaborative processes and stronger innovation outcomes through experimental research.  To spearhead that effort, we retained Audience Viewpoints Consulting, an independent research firm.
Today, we are pleased to publish "The Impact of Arts-Based Innovation Training on the Creative Thinking Skills, Collaborative Behaviors and Innovation Outcomes of Adolescents and Adults", their report of our four year effort. Its findings provide – for the first time – clear evidence of a strong causal relationship between arts-based learning and improved creativity skills and innovation outcomes in adolescents, and between arts-based learning and increased collaborative behavior in adults.
We are grateful to Audience Viewpoints for their insightful approach to the design and implementation of this research, and to Kate Haley Goldman, Steve Yalowitz and Erin Wilcox for their comprehensive and thoughtful work on the report;  to Americans for the Arts, American Association for the Advancement of Science and Association of Science-Technology Centers, our national partners, for their advice and support over the years; and to Balboa Park Cultural Partnership and EcoTarium, who hosted our research.
We are especially grateful to the National Science Foundation's Advancing Informal STEM Learning program, which made this research possible with its generous support.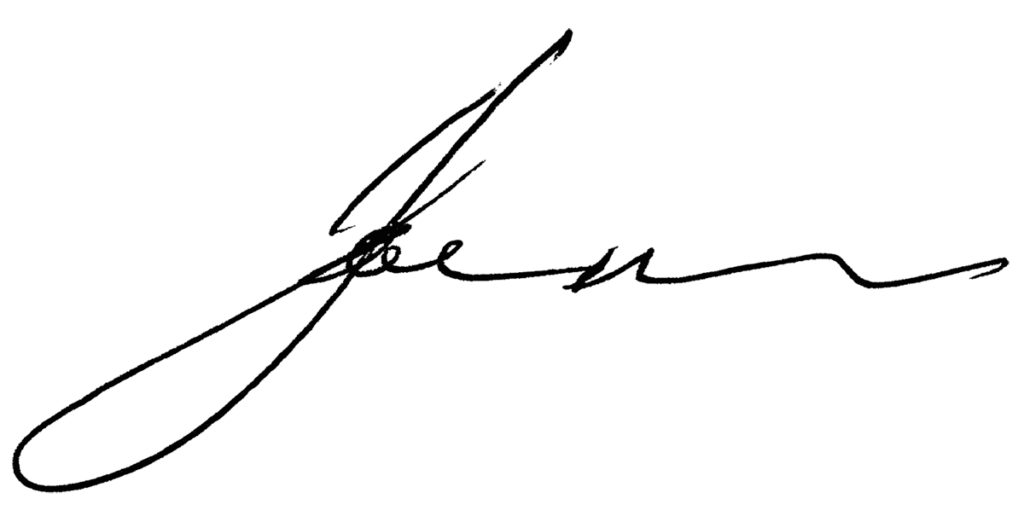 Harvey Seifter
Director and Principal Investigator
August 2, 2016
New York City
KEY FINDINGS
Arts-Based Learning Improved Creative Thinking Skills in Adolescents
High school groups using arts-based learning showed a large number of statistically significant increases in creative and critical thinking skills from pretest to posttest.  Control groups showed no such increases.
Arts-Based Learning Increased Collaborative Behaviors in Adults
STEM professionals using arts-based learning showed significant increases in sharing leadership, emotionally intelligent behavior, empathic listening, mutual respect, trust, active following and transparency.  Control groups only showed an increase in emotionally intelligent behavior, and in that behavior, the arts-based groups outperformed the control groups by a statistically significant margin.
Arts-Based Learning Led to Stronger STEM Innovation Outcomes in Adolescents
Expert panelists rated the STEM innovations created by the high school teams using arts-based learning significantly higher in terms of insight, clarity, problem solving and impact than those of the high school control teams. The effects were strikingly large, with the arts-based teams outperforming the control teams by as much as two points on a five-point scale.
Arts-Based Learning Helped Adolescents Apply STEM Learning to Their Everyday Lives  
High school students experiencing arts-based learning rated the transferability of lessons from the challenge to current and future academic work, home life and extracurricular activities significantly higher than did the control group. The effect was very large; the difference ranged as much as two points.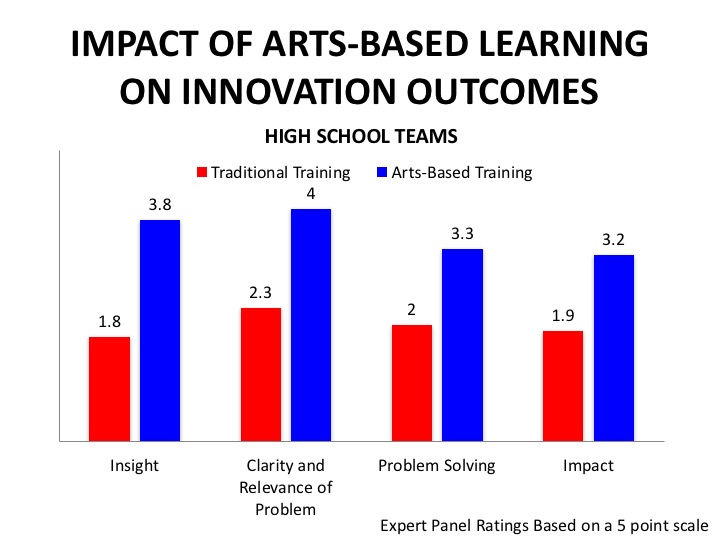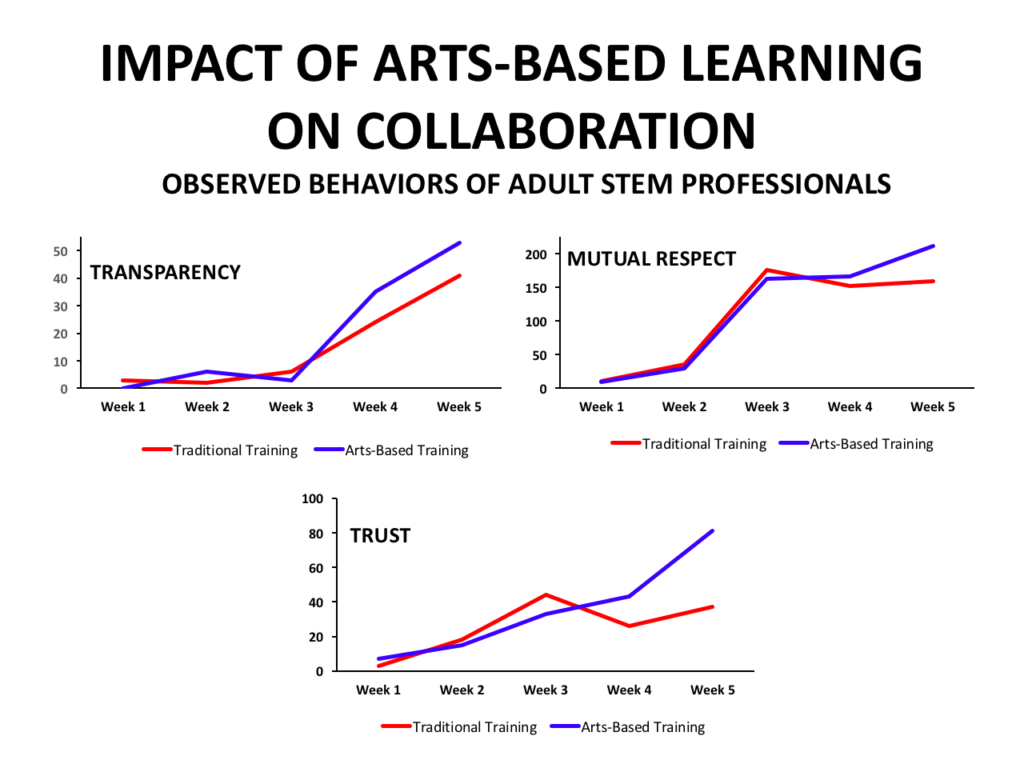 For Executive Summary – Click Here
For Complete Report – Click Here