The San Diego Incubator for Innovation embodies a commitment to multidisciplinary collaboration and cultivating creativity. Situated in a hotbed of innovation across a broad spectrum of industries and disciplines, our incubator brings unique resources to San Diego's binational community.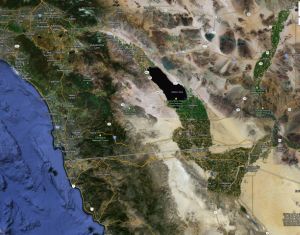 The program includes a year-long fellowship for 100 people to enhance their innovation skills through intelligent integration of the arts. Unique linkages connect multiple sectors in the US, Mexico, and tribal communities—industry, business, formal and informal education, research, government, arts and culture—extending and strengthening San Diego's regional network of effective innovators and entrepreneurs.
Our civic challenge of water supply and demand has galvanized our incubator community. Water supply and demand, a challenge proposed and selected by the San Diego community, presents abundant opportunities that our incubator will target with ten new water-related innovations. These may include products, services, and educational programs, to be determined by the incubator community.
Public events invite ideas and inspiration from the broader community into the incubator, while sharing our innovation processes and the fruits of our collaborative efforts. In our public events, as in our Incubator for Innovation, we use the arts to explore and create in science, technology, engineering, and mathematics (STEM).
The Balboa Park Cultural Partnership serves as both the national sponsoring organization and leader of the San Diego incubator. Read the press release here. Learn more about the team leading this exciting initiative at http://bpcp.org/art-science-learning-project-welcomes-2-new-staff.
---
News
https://www.utsandiego.com/news/2013/jan/21/balboa-park-cultural-partnership-grant/
http://www.utsandiego.com/news/2013/jan/29/balboa-park-cultural-partnership-water/
http://www.utsandiego.com/news/2013/feb/12/balboa-park-cultural-partnership-challenges/
http://www.utsandiego.com/news/2013/Apr/11/balboa-park-cultural-partnership-incubator/
http://www.utsandiego.com/news/2014/oct/11/art-of-science-learning-iincubator-for-innovation/?#article-copy
http://www.sdcitybeat.com/sandiego/article-13501-san-diego-incubator-for-innovation-teams-ready-to-launch.html
http://timesofsandiego.com/tech/2014/10/15/science-teams-show-drought-inspired-innovations/
---